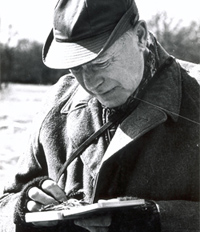 The most well ,known fisherman at Em is Gustaf Ulfsparre, who developed the angling during the 20th century. He leased the game fishing from Em's joint-stock company from 1924 up to his death in 1987.
Gustaf left well known flies e.g. "Bacchus" named after the family's dachshund. Another creation of his is "Em silver" that might be the most reputable fly that has been flying over the rapids of Em.
Very few flies are responsible for more salmon and sea trout. Gustaf's son, Göran Ulfsparre, has continued the work of his father and has used his great commitment and knowledge to tend the sea trout and salmon fishing in the river.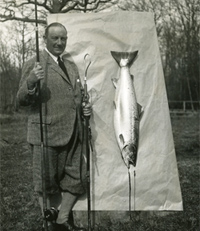 Theodor Ankarcrona was another respected fisherman and he was also the author of several articles in the volume "Sportfiske i Sverige" (Angling in Sweden) where the Em-fishing is mentioned as an important part.
He caught 793 sea trout and salmon during his spring- and autumn fishing 1926-1952 and that adds up to 30.5 fish every year.
The Ankarcrona Pool is named after him and he also created well known flies like "Em Punsch" and "Black Spain".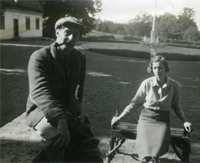 Anthony Crossley was the one who introduced the floating line – a greased silky line – as a tool. Crossley is regarded as one of the masters when it comes to fly fishing at Em. A new era was introduced when fishing with the floating line was introduced and it was also mirrored in his choice of flies. He wanted flies made of a softer material and with of thicker wing like "Barrett Supper Fly" or "Wye Bug". However, his own patterns i.e. "Pilsener Fly" and "Silver Dawn" also attracted many and big fish.
Crossley was fishing at Em in 1928 for the first time but made a pause until 1932.Then he returned every spring and every autumn up to 1938. He caught 350 sea trout during his sojourns/stays at Em, and 31 of them weighed over 10 kilos. One fishing place, the Crossley's corner, situated on the Northern side exactly where the Home Pool meets the Ankarcrona Pool, is named after him.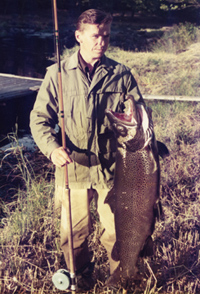 Stig Nilsson is another fisherman to be remembered. He is a good example for all fishermen at Em and he willingly shares his experiences with others.
Stig has been and still is an important participant in the biotope conservation as a carrier of much and important knowledge.
His role as an eminent fisherman and world recordholder has already been mentioned
(see 2.1.3).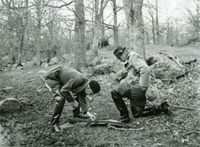 Royalties at Em
Em's manor and its game fishing have regularly been visited by royalties. The Swedish Prince Gustaf Adolf, the present king's father, was the first. He was a friend of Gustaf Ulfsparre's from their common military service and he came to Em during the spring fishing in 1926. He gave rise to the idea to arrange a "paying guest fishing" and promised to send some Englishmen the same year.
He revisited Em two further years, in 1927 and 1931.
Two very frequent guests at Em were the Danish Prince Axel and the Swedish Prince Wilhelm. Prince Axel started in 1935 and regularly returned up to the 50-ies. Prince Wilhelm visited Em for the first time in 1942 and he then returned both in the spring and in the autumn every year up to the 60-ies. He is probably the leader when it comes to counting fishing days.
Prince Bertil of Sweden came to Em for the first time during the spring fishing in 1937. The echo made from his discontent can still be heard at the shores of the river. The reason was that he had lost a very big fish after a tough struggle of 40 minutes.
The former king of Sweden, Gustaf VI Adolf, came twice to Em. The first time in 1944 as crown prince and the second time, in 1956, as king.
It is well known that the present king of Sweden, Carl XVI Gustaf, has a vivid interest for fishing, but he has only once visited Em, in 1974.